Now You Can Resize Design Templates With Ease
Have you ever created a design that you wanted to use in more than one place? For example, a Facebook header that you wanted to use as a header on all of your social media channels or an Instagram graphic you also need in a Pinterest-friendly size. Since each channel requires a different size, you may have found yourself in a situation where you needed to recreate the same graphic on a different sized background (so tedious!). That is, until now! We're about to rock your design world with an awesome solution: rather than re-start a design from scratch, you now have the ability to RESIZE TEMPLATES at any point in your design workflow! Talk about a time saver.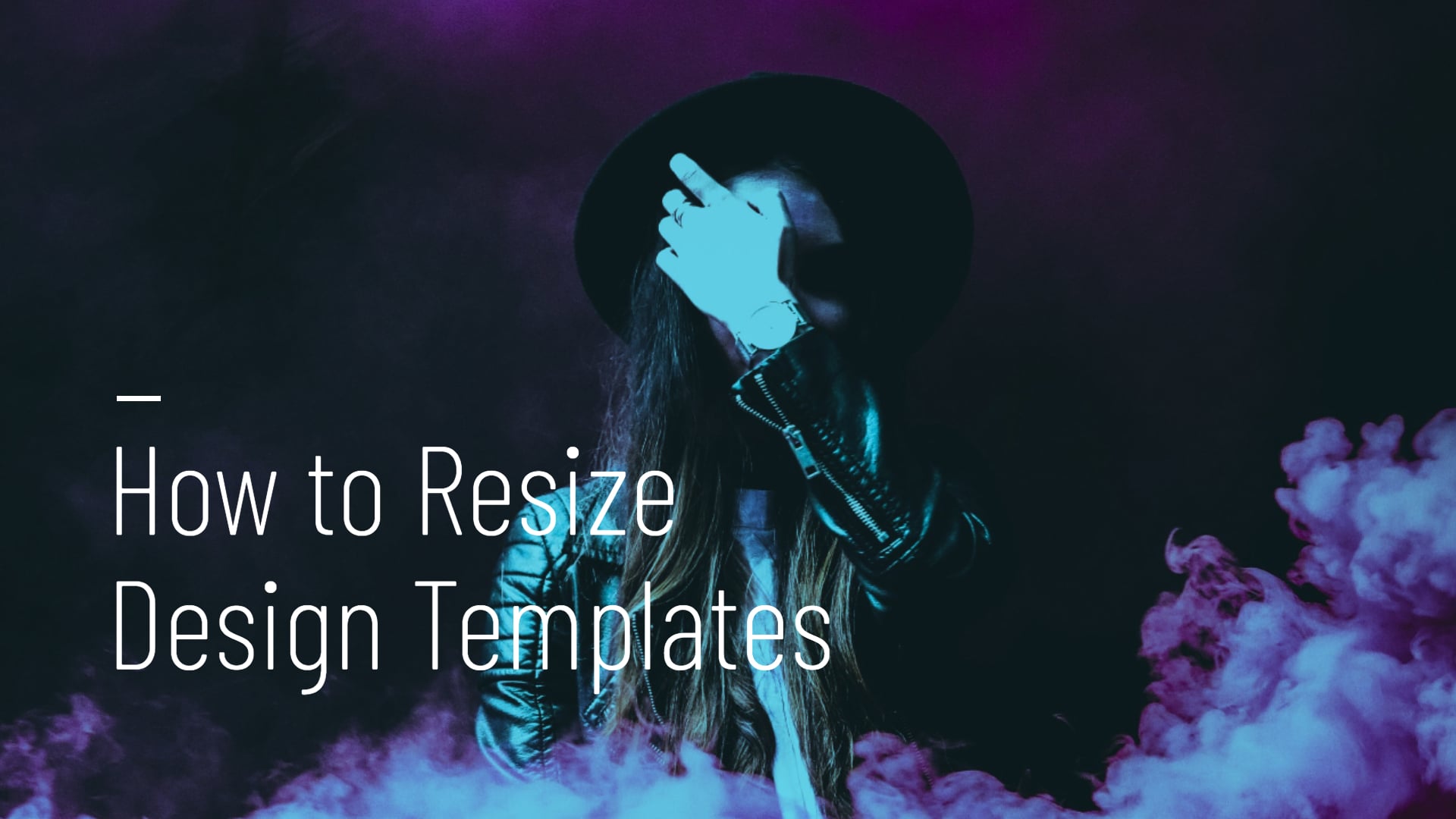 No matter what template you're working on or what size you need (within reason), you'll find a new button in the Customize tab titled Resize Template. It'll give you all the options you need to resize the background of your template and keep all the design elements, text, and images right there waiting for you. There's even a Smart Resize option that will attempt to place and resize the layers within the new aspect ratio you select! We'll show you all about how to use it for an even more seamless workflow.
When to Use Smart Resize
Whenever you need to resize a design template, there's a Smart Resize option available to help keep the formatting of your template more in tact. Smart Resize will attempt to resize and place each layer in your design according to the new size you select instead of resizing only the background of your template. Here's a quick gif to show you what we mean:
See how Smart Resize ensures that the text and design elements stay perfectly positioned even when choosing a new size? Note that there may be times where you have to manually resize elements like image backgrounds to make sure you get the look you want, but Smart Resize is ideal when it comes to preserving the layout in the resize process.
How To Resize Design Templates
To resize a design template, you'll need to start by loading one onto your canvas in the Graphic Designer. Head to the Designer and click on the Templates tab, followed by Search Templates. Choose any template as a starting point by clicking on its thumbnail and pressing the Select Template button.
Now that the design template is loaded onto your canvas, click on the Customize tab from the menu on the left. At the top of the Customize tab you'll see the current dimensions of your design template and a button titled Resize Template.
Once you click the Resize Template button, a menu will appear with all of your options for resizing. In the Template Size Presets dropdown menu, you can choose from popular template sizes and orientations like Pinterest Pin, Square, and more. If you select a Template Size Preset from the dropdown menu, the dimensions will autofill as the new Width and Height sizes for your template.
If you'd rather type in your own custom dimensions, you can do so by adding them to the Width and Height boxes in the Resize Template menu. Note that if you keep the Lock Aspect Ratio box checked, it will keep the same aspect ratio when you type into either the Width or Height box, so if you want an entirely new aspect ratio with your custom dimensions, simply uncheck that box.
Finally, you'll need to choose whether you want BeFunky to Smart Resize your template or not. Checking the box next to Smart Resize will attempt to maintain the placement of your graphics, text, and images by resizing them accordingly.
When you've made all of your selections, press the Resize button and your newly resized template will appear on the canvas! Note that even when you use Smart Resize, you may need to manually place and resize your design elements to get the look you want. But you will have the perfectly sized template to create your design on, no matter which part of the process you find yourself in need of a resize!
With hundreds of design templates available and the ability to resize them all, we're talking endless graphic design possibilities and a more seamless workflow than ever! Click the link below to get started with your next design masterpiece.
Graphic Design, Simplified.
---