A Whole NEW BeFunky That's Smarter Than Ever.
For ten years and counting, we here at BeFunky HQ have always had the same vision: to create powerful photo editing and design tools, simplified so that anyone can use them. Since we're always looking for ways to make the process of creating ultra-professional photos and designs easier, we did some things. First, we asked YOU, the creators, what we could do to make BeFunky even better. Then, we gathered our team of of tech whizzes and put our heads together to make an even more seamless all-in-one Creative Platform for you to work on, taking all of your requests into consideration (and then some) to seriously improve your workflow.
What happened next is so magical and groundbreaking that you're going to freak out. Allow us to introduce a whole new BeFunky, reimagined and rebuilt from the ground up with new tools and capabilities that are so smart, it'll basically do all the hard work for you! We no longer rely on Flash (Yay! No more having to update Flash EVERY TIME you use BeFunky!!) and not only will you notice an easier-than-ever interface to work on, you'll benefit from some huge changes we've made. Here's what we did:
Drag-And-Drop Uploading
We streamlined the uploading process in our entire platform, so now all you have to do is drag-and-drop to upload your photos and .BFD projects! Whether you're in the Photo Editor, Collage Maker, or Designer, you can add an image right into whatever platform you're working on simply by dragging and dropping it into the interface. It will then fill up the Photo Editor canvas for making edits, fill a cell in your Collage Maker project, or become part of your design in the Designer.
Smarter Saving Capabilities
Save As Project
Have you ever noticed a typo in your design, forgot to fill a collage cell, or regretted a photo editing decision after you saved your work? With our new Save As Project feature now available in the Photo Editor, Collage Maker, and Designer, you can now save your work in editable format!
Saving your work as a project will allow you to come right back to where you left off in the editing process, so you can easily give yourself some freedom in your workflow and won't have to sweat it if you do make a mistake. You can store your projects right within BeFunky or on your desktop as a .BFD file (editable BeFunky Design file).
Autosave
Even if you forget to officially Save As Project, BeFunky will remember where you left off in the current project you're creating - it's that smart now! Upon re-entering BeFunky's Photo Editor, Collage Maker, or Designer, you'll see whatever project you were working on before you closed your browser tab. This way you can rest assured that whatever might happen to your computer, whether a power outage or an accidental close of the browser tab, your work will always be there waiting. You can pick up right where you left off to keep on editing and tweaking until it's perfect!
Universal Image Manager
Whether you're in the Photo Editor, Collage Maker, or Graphic Designer, BeFunky will universalize each image you upload into the Image Manager tab. This way, if you're working with photos you've uploaded into the Collage Maker, you'll see those same photos available in the Image Manager tab when you're in the Photo Editor and Designer. Easy access to your photos takes out the need to re-upload per platform, saving you tons of time!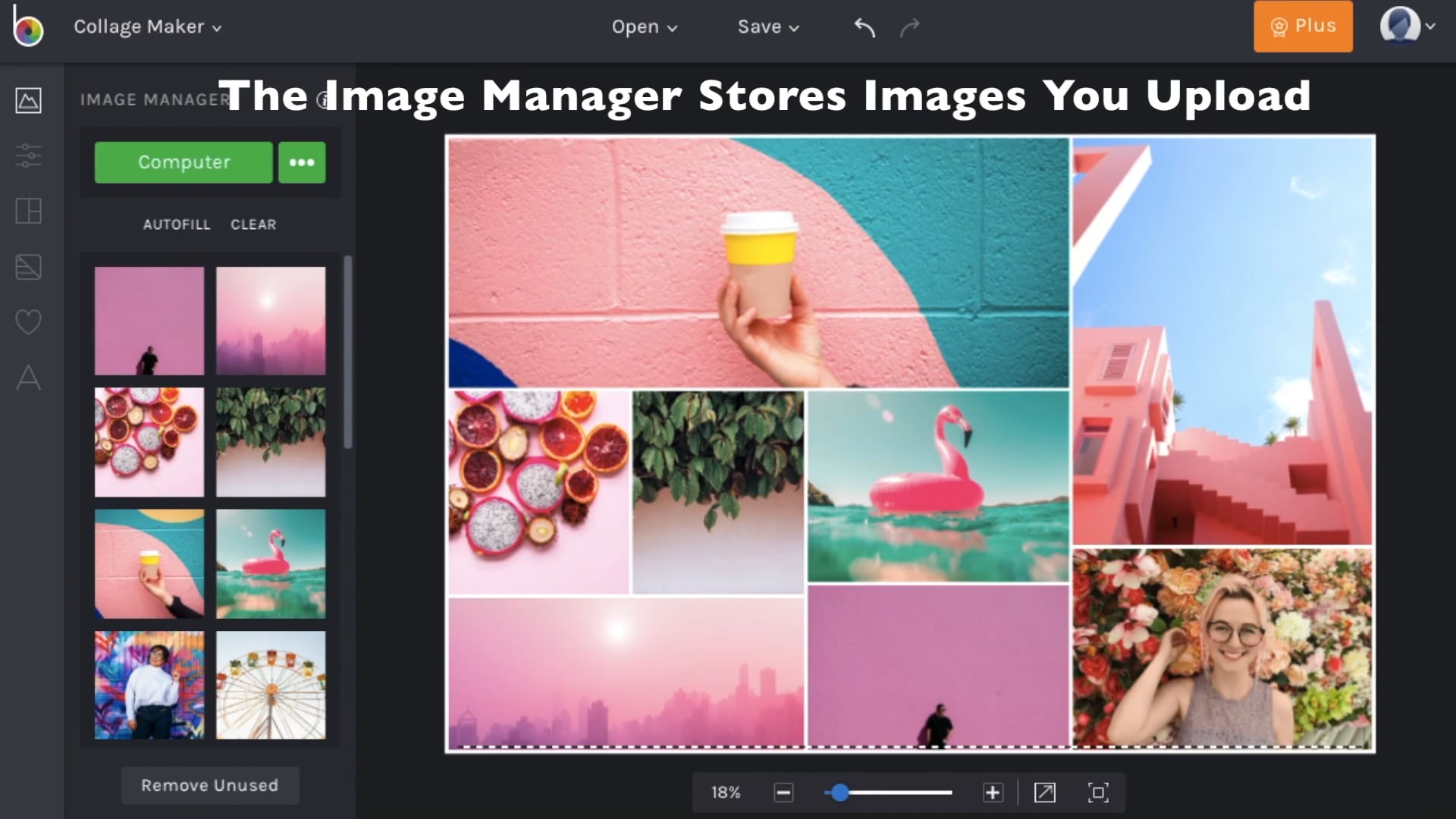 In addition to images you upload from your computer, you'll notice that each Image Manager tab now allows you to search and upload millions of free stock photos from Pixabay and Pexels. These beautiful stock photos are particularly helpful when creating graphic designs, adding photos as image overlays, and filling collage cells! Now you don't even need to leave BeFunky to find the perfect stock photo for your project.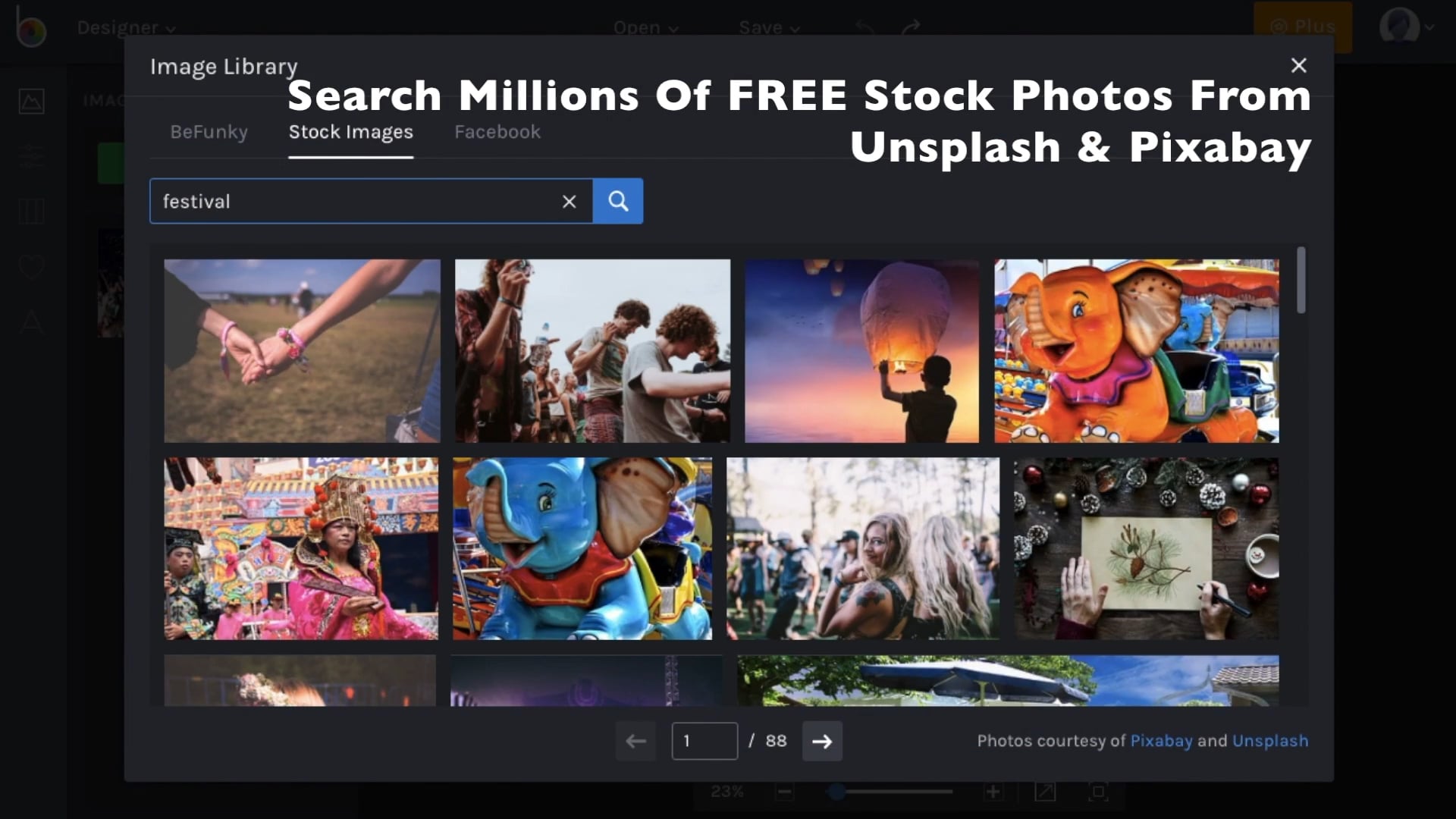 Add Text To Photos Like Never Before
We already had a huge library of free fonts for you to use in your projects, but now there are even more to choose from! Our professional graphic designers who know a thing or two about typography have hand-selected an expanded collection. Now, there are so many fonts that we've added a search bar for you to search the list and locate fonts - even the ones you've got stored on your Computer - so you can add text to photos the way you want.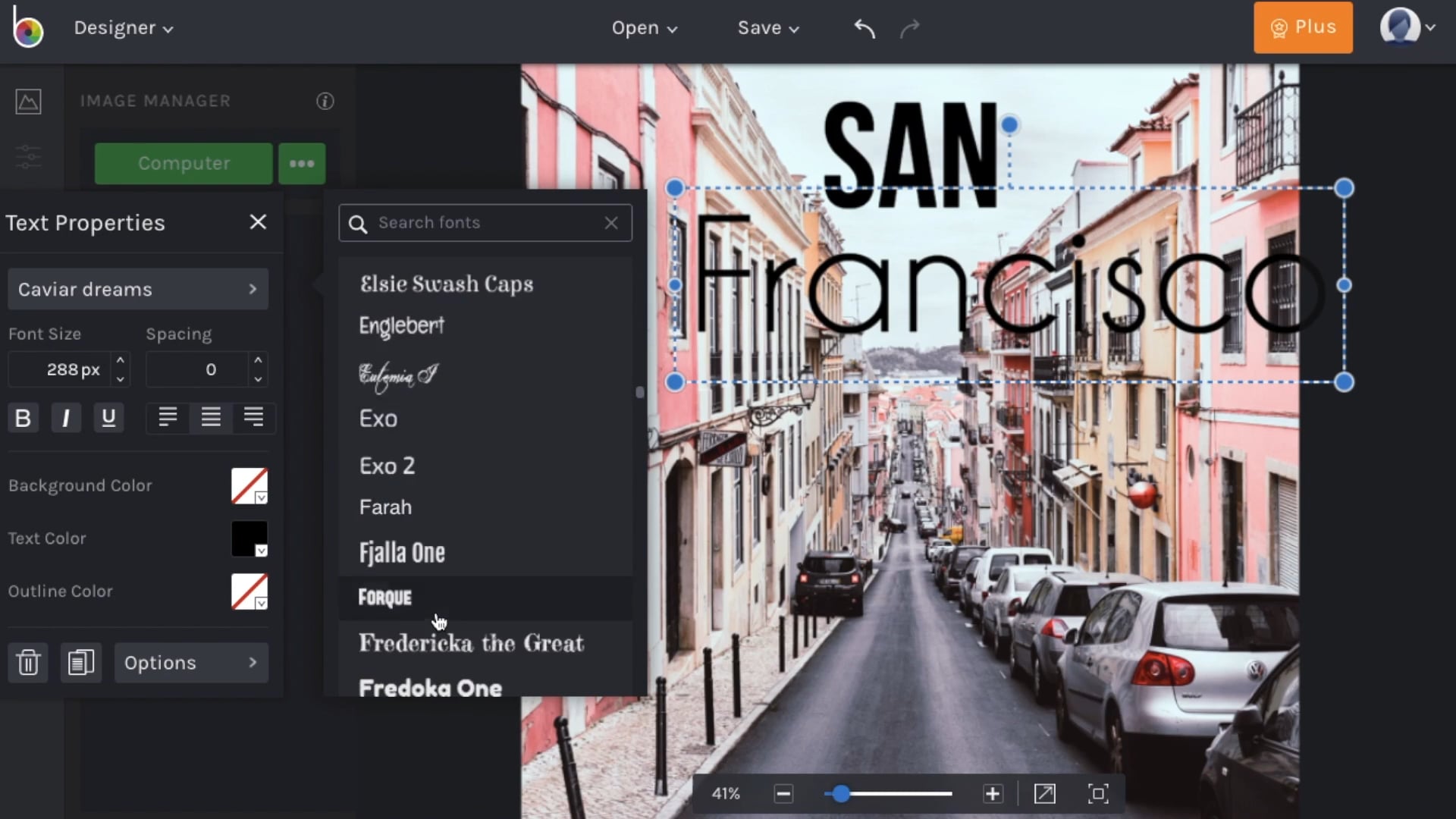 In addition to expanding our font library, we've also given you the ability to add typographical emphasis - make the text bold, italicized, or underlined - so you can say what you need to say and truly get your point across.
More Graphics Than Ever
We took a look at our Graphics library and thought it was time for a revamp, big time. Now you'll find hundreds of new and improved graphics to add to photos, collages, and designs that are fully customizable to suit your needs! Whether you're making Infographics, creating a logo, or getting crafty with your photo editing, there's something for every situation. In other words, you'll never have to scour the internet for vector graphics again.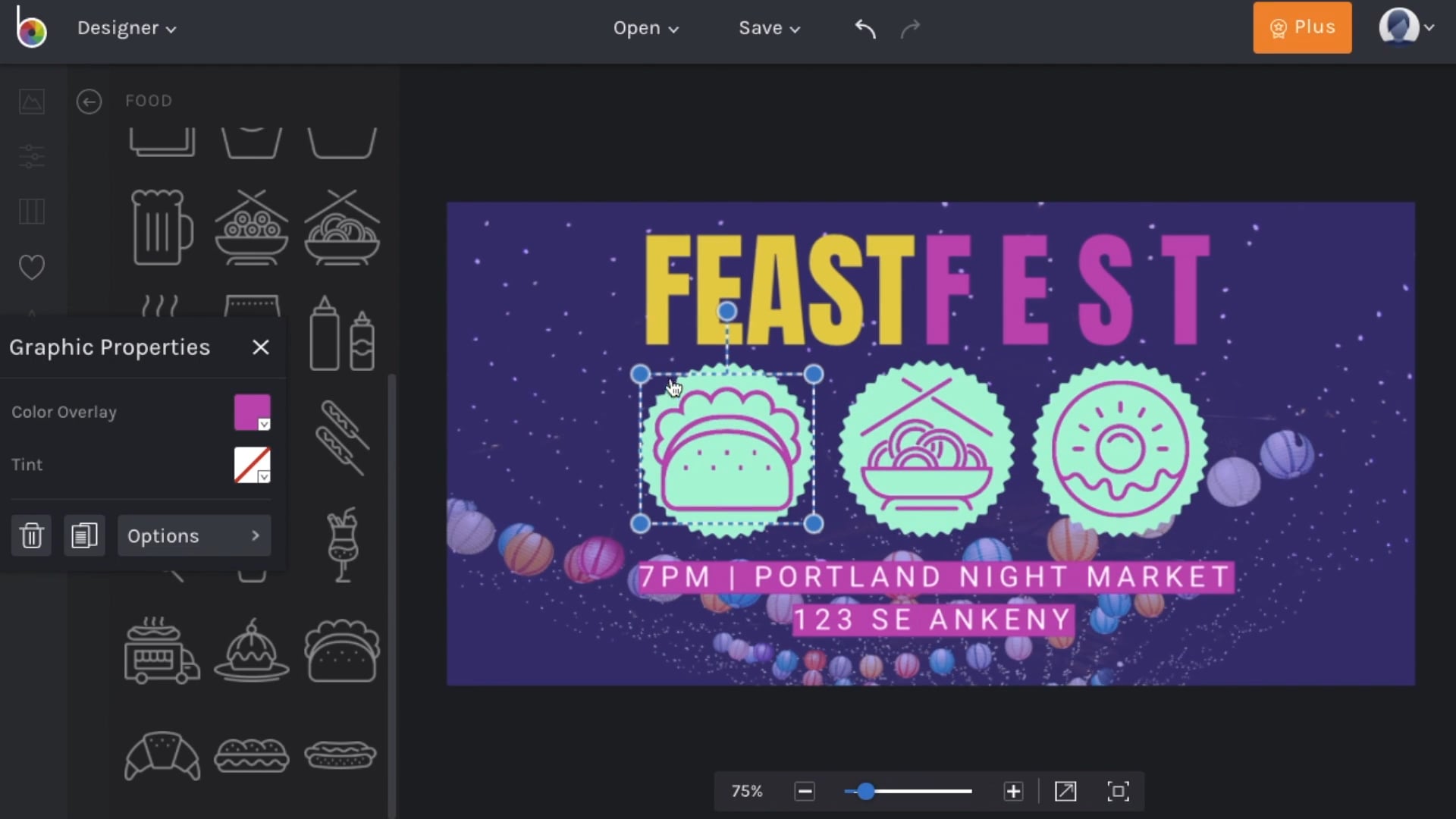 Precision Snap Lines
We've added smarter snap lines to help you get precise placement of graphics, text, and anything you're using as a layer. They'll appear any time you're clicking and dragging, so you can get things lined up more perfectly, quicker than ever.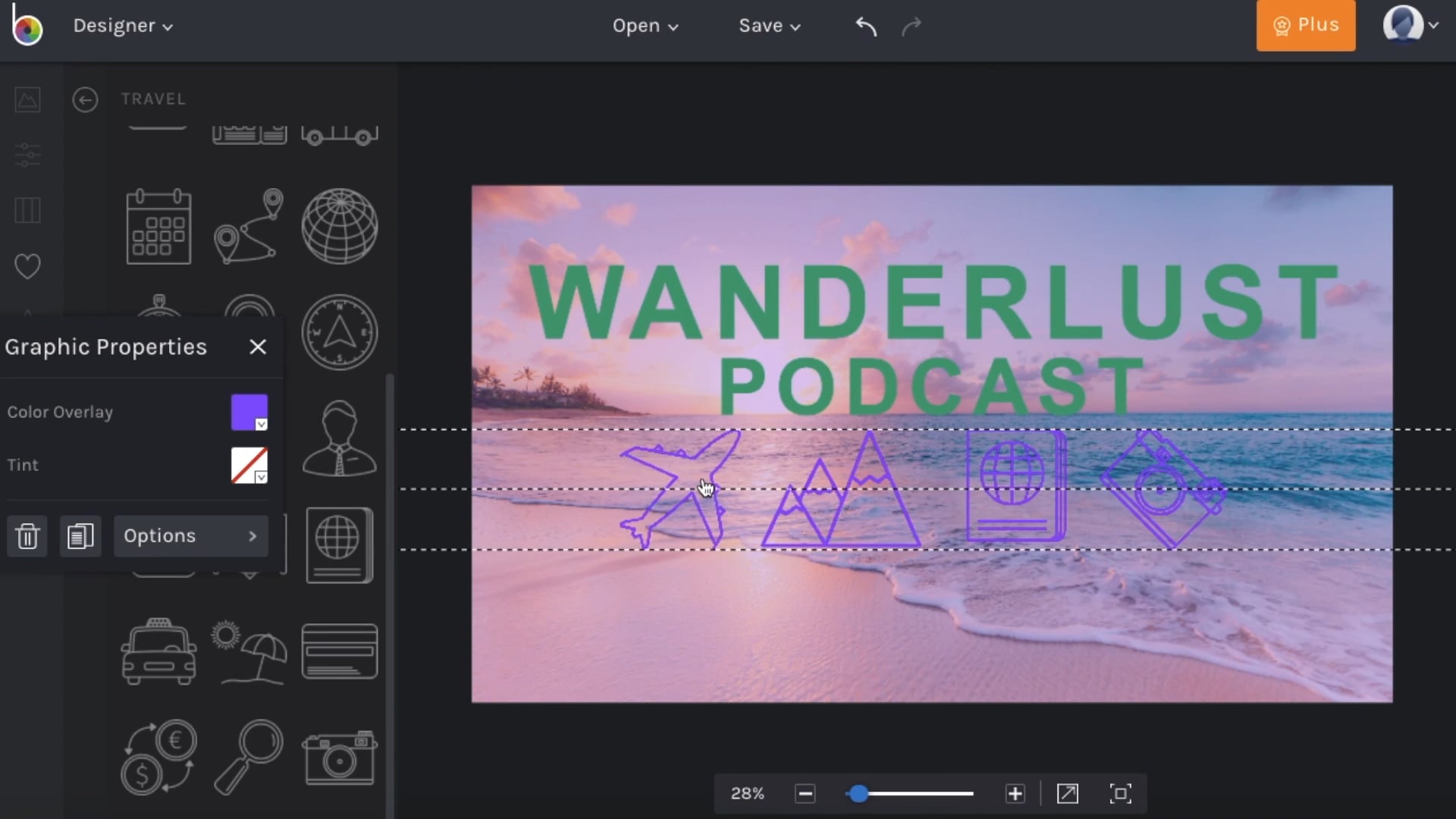 Shiny New Photo Editing Tools
In our Photo Editor, you'll find new professional-grade tools in the Edit menu that have absolutely no learning curve! Using Clarity will sharpen your image without crossing the line of oversharpening. The new Vibrance tool will enhance the midtone colors of your image without oversaturating. And since our Fill Light tool (formerly part of the Exposure tool options) was used so frequently, we decided to make it a standalone feature in the Edit menu! Use it to balance the light in your photo and mimic the look of a professional photography setup (without having to spend hundreds of dollars on equipment).
The best part about these tools? All you need to do is adjust the strength with a single slider. That means you get Photoshop-level tools, but an uncomplicated way to use them for creating breathtaking photos.
Speaking of uncomplicated, we've made a big change to our most complex tool in the Photo Editor: the Levels tool! We figured out a way to make it even simpler to balance the midtones, highlights, and shadows that make up your image's exposure. Just adjust the sliders in Levels, and BeFunky will do the rest.
Stunning New Design Templates
Our team of professional graphic designers have been busy creating all-new templates for you to customize in our Designer! From wedding invitations to business cards, social media graphics, and more, we've got amazing new templates that will suit all of your design needs. All you have to do is drag-and-drop, click-and-type, and you'll look like a total design guru without having to hire a professional graphic designer.
If you want to make a design from scratch, you can now choose canvases with transparent backgrounds for you to get creative with logos, watermarks, and web graphics! Now that you can choose from an expanded library of new graphics and free fonts to use in your project, you'll be able to craft your own .png imagery in minutes. When you design on a transparent background, it guarantees that your design will be seamless when uploading it to a blog, website, Etsy shop, or watermarking an image with your logo. Trust us, you'll be smitten with how easy it is to design like a professional!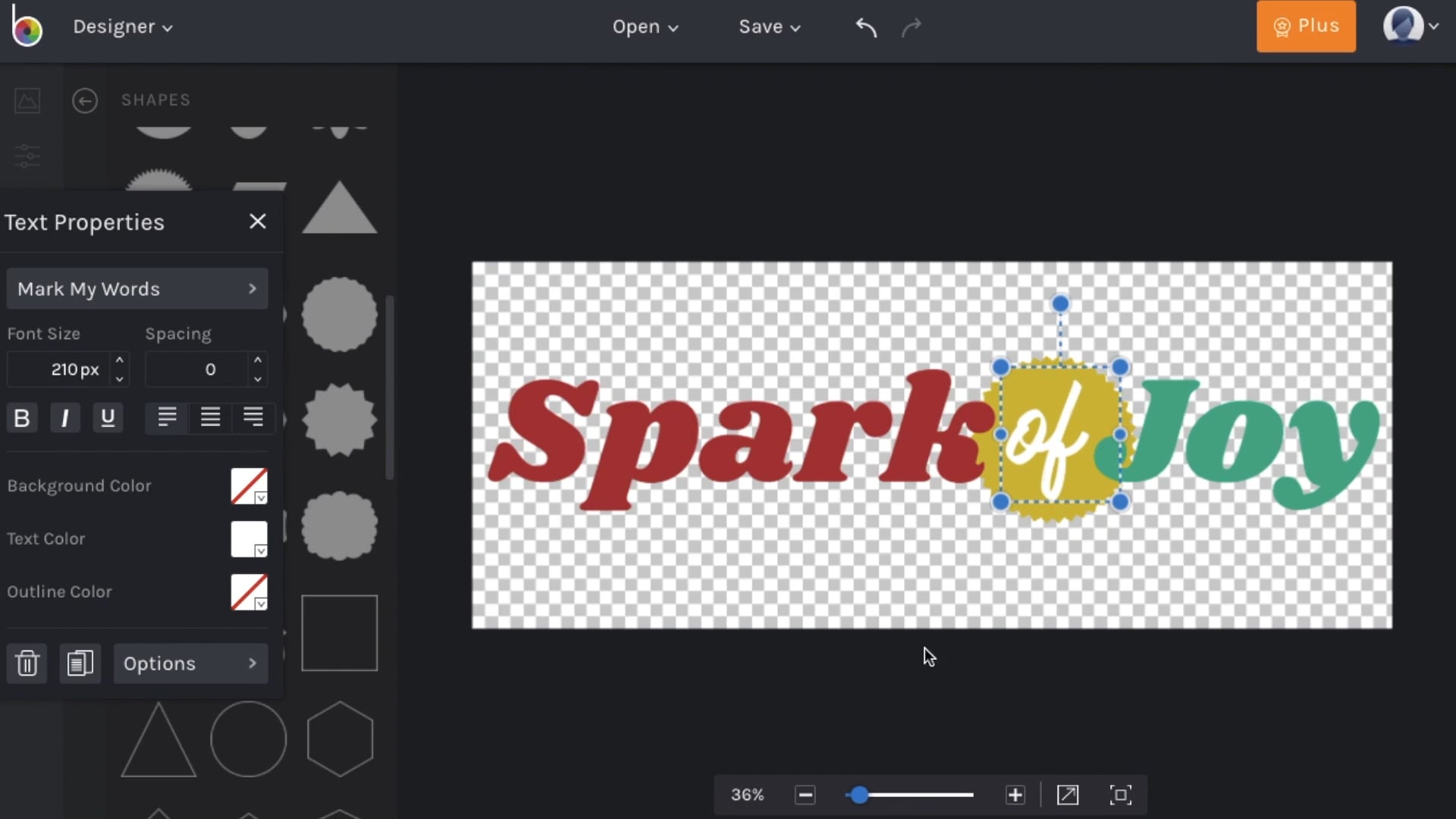 More Control Over Collages
We mentioned before that you can now drag-and-drop images from your Computer desktop into collage cells and save your collage as a project that you can continue editing at a later date, but there's even more! Now in Collage Maker, we've created easier controls on the collage canvas so that you can resize cells (and the whole collage!) just by clicking and dragging. You'll also find a vast library of new Patterns to fill your collage cells - we think they're more beautiful than ever. Whether you're creating a mood board or telling a story with your collage photos, the new Collage Maker is the easiest, most option-filled one you'll find on the web.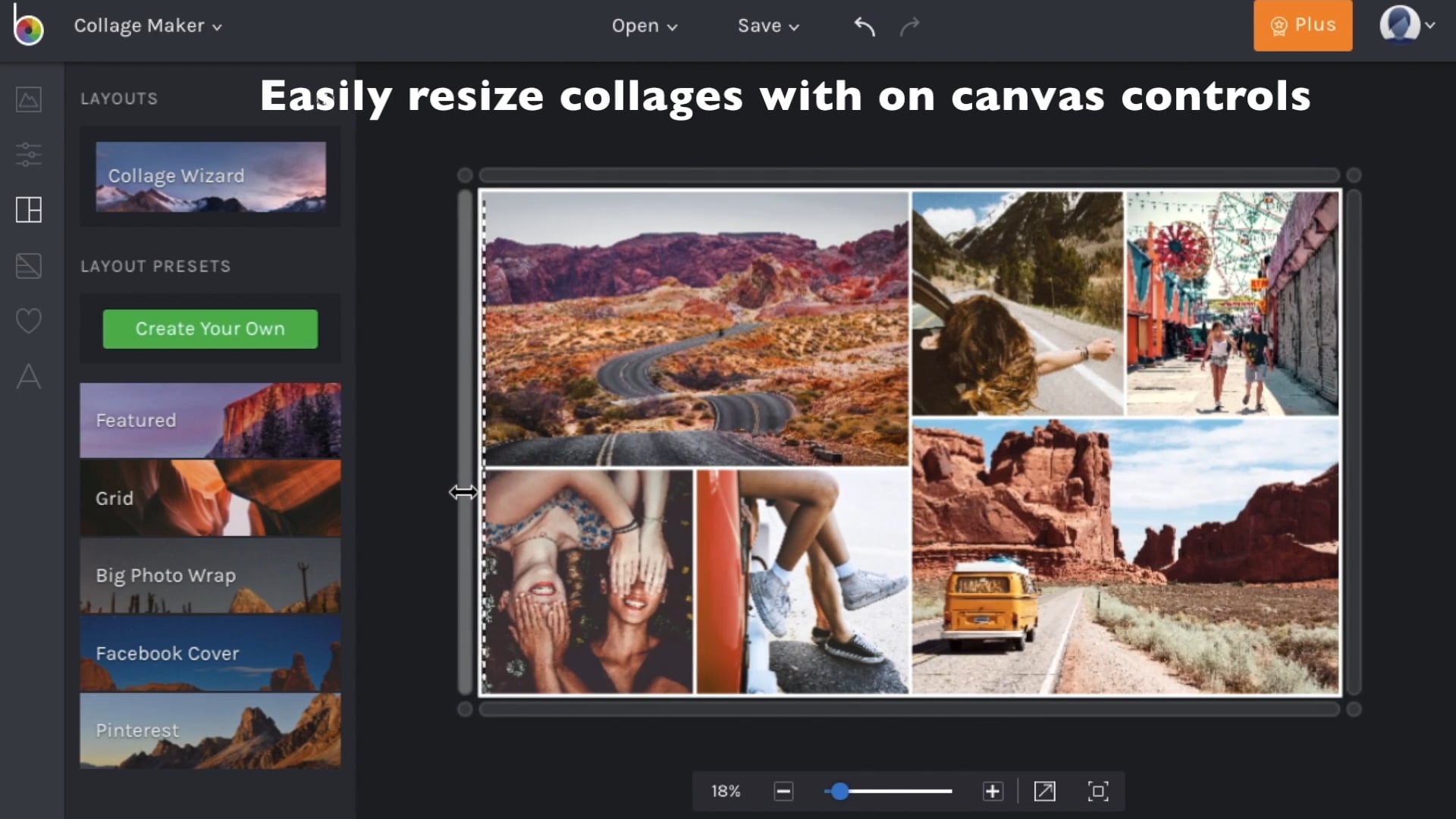 Professional Blend Modes
Whether you're working with text, graphics, an image layer, or any tool with a Blend Mode option, you're now able to select from an expanded set of blend modes to get the look you want. This new collection of Blend Modes are professional-grade, giving you more options for blending your layers and creating whatever you're envisioning.
Expanded Selection Of Photo Frames
Choose from an expanded selection of Photo Frames to put the final touches on your projects in the Photo Editor. We had our professional graphic designers hand-curate a selection of amazing Photo Frames for every look you could want.
Ready to seriously up your creative workflow? We've got all your photo editing, collage making, and graphic design needs covered with tools that are so intuitive, you'll be amazed at what you can do!
Photo Editing, Simplified.
---